Are you a pizza lover? Do you order takeaway or call for pizza delivery very often? Did you ever wish that the pizza ingredients can be customized to include only stuff you like and nothing else? Well it is time to make your own!
If you are like me who prefer the thin crust type of pizzas - like those found in Spizza - over the pan pizza type, you would be surprised that it is easy to make the same kind of slightly burnt and crispy crust pizza even without a stone pizza oven!
Here I will share with you a simple 5 step recipe to make a thin crust pizza that is a worthy contender to the professionally made ones. It is so easy that it takes not more than 20 minutes, if you have all the ingredients ready!
How to make thin crust pizza the easy way - just 5 steps and 20 minutes!
Here's the secret to the crust :-
I tried this brand and got the results that I wanted but no harm trying other variations or brands if you cannot find this particular variety.
Other ingredients that you need :-
Ingredients :-
Pizza Sauce in a bottle
Shredded Mozzarella or Parmesan Cheese
Your choice of toppings, eg. sausage, ham, bacon, salami, seasoned meats, mushrooms, onions, olives, pineapples. pesto, wild rockets, basil leaves, etc...the only limit is your creativity.
Method :-
First lay the wrap on a flat and clean surface
Spread the pizza sauce over the wrap using a tablespoon, leaving about 1 cm of untouched space around the circumference
Scatter the shredded cheese over the areas covered with sauce, if you like cheese, feel free to add more
Add on the toppings based on your own preference - chop them to small chunks and spread them evenly. For basil leaves/pesto, chop them very finely and sprinkle them on top to finish up your pizza topping
Depending on your oven (I used a table top oven and got it done to perfection in 10 minutes or so) toast it until you see that the cheese has melted. Be sure that the wrap is not burnt though a little browning of the edges is fine. It is essential to monitor the pizza through the oven's window so that you get the right crispiness to the crust and not a totally black crust! Switch off the oven and let the pizza rest in it for a few minutes before taking it out.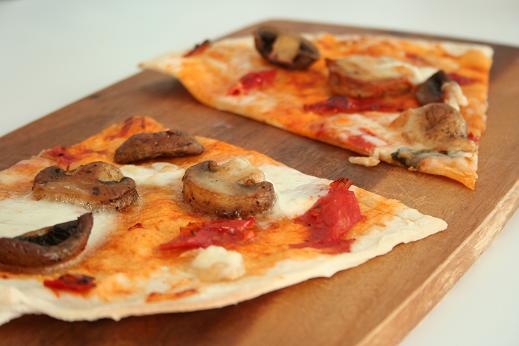 Enjoy your custom made pizza, perfected to your own taste and preference! Once you have got the hang of it, experiment with other toppings and you would probably never need to order a pizza delivery anymore!
Now, what is your must-have toppings on your pizza? Do you know of any combination of ingredients that goes well with each other, something like the classic hawaiian combo of pineapple and ham? Is there an unusual topping that you know of? Share your favourite toppings in the comments below and show off your creativity!