What is the pink ribbon and +3 Extra Moves in Candy Crush?
This is not to be confused with the +5 Moves booster which you need to purchase and which you can choose to purchase at any time during a game. This post is talking about the
+3 Extra Moves Boosters in Candy Crush Saga
which you can send to your friends for free.
An explanation to +3 Extra Moves boosters, pink bow or pink ribbon in Candy Crush Saga
An extra move booster gives you additional 3 moves to the game. Each booster can only be used for one game. A disadvantage of this booster is that you have to choose whether to use it before the game, rather than during the game when you know that you just need a few more moves and you could clear the level. Hence the usefulness of this extra moves booster is kinda limited. Sometimes when you chose to use it, the game board is so unfavourable that you will never clear that level even if it is a 10 extra moves booster!
That said, an Extra Moves booster does not cost you money as it is sent to you from your friends, like extra lives.
When you receive an Extra Moves booster from your friend, a
pink ribbon bow
will show up on the level to show you that you have available Extra Moves booster to use.
How to send or receive +3 Extra Moves boosters from your friends
There is no way for you to ask for extra moves from your friends. However, when you are stuck for a couple of days on a particular level, the game will prompt YOUR friends to send you extra moves.
If you notice when you start Candy Crush, there will be a window asking you whether you wish to send Extra Moves booster to your friends - for eg. so and so is stuck on Level 132 for 15 days. Check it with a tick and an Extra Moves booster will be sent to your friend.
So do not expect to receive Extra Moves for every level from your friends, especially if you are "not stuck for long enough", so to speak.
How to use the extra moves boosters from your friends
Extra moves given by your friends are specifically meant for that level only.
If you received extra moves from your friends for a level, you would see a pink ribbon before you start the game as one of the options of boosters for you to choose.
You may select it and your next game for the same level will have 3 extra moves.
Take note : you must select it before you start the game, you cannot select it in mid-game. The Extra Moves given to you for a particular level can only be used for that same level.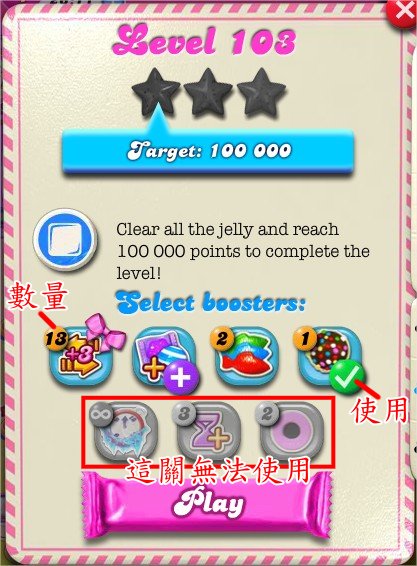 How to select +3 Extra Moves in Candy Crush